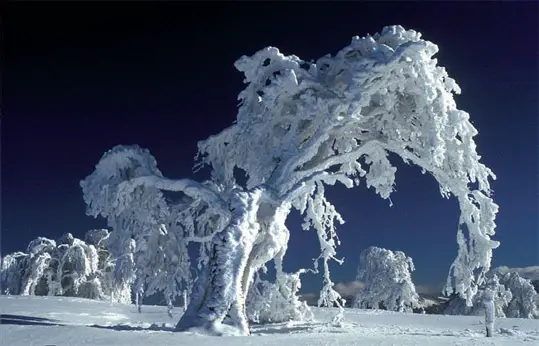 Lifelong beach bums don't often have the chance at a white Christmas. Since Jana and I had to readjust our weather gauges a bit (50 is cold and 80 is hot) growing up in California beach towns, we look forward to a few payoffs…like snow on Christmas day, without a 3 hour drive.
The past 2 weeks in Seattle were COLD. (Note to Minnesotans: approximately your Spring Break weather.) 17 degrees at 9AM heading for work and mid 30s for the high. My skin has been dry and cracked like one of those Death Valley floor photos. We rooted for a little moisture during this cold snap because it would mean snow. Of course the cloud cover is somewhat of an insulator, bringing the temps into the 40s. So here we were – December in Seattle and 2 weeks without rain. Finally, Sunday night it happened. A couple hours of snowflakes. I was pushing the younger two kids in the baby jogger when it began. Later that evening we got the girls out of bed when the street was covered with snow. But within minutes it began to rain, melting it all away.
Talking about the weather is actually something I love. It's a good conversation starter and I think in my next life, metaphorically speaking (not trying to compromise theologically), I'd be a weathercaster – I just love watching the Weather Channel. Anyway, it's funny how people I talked with spoke about the potential snow with such disdain and fear. Yeah, I wasn't here last year when it shut down the city for a week and helped the mayor lose his bid at reelection I'm told, but come on – snow is cool.
With all apologies to those who live in the snow, own snow shovels, and maybe even a snow blower, I'd love a white Christmas (or just a snowy day). It's one of life's simple pleasures. One of God's miracles. Not only am I awed by snow, but I love watching my kids react too. They talk about it constantly and they can't wait 'til we pack up the car, drive 40 miles east and actually go play in it this winter. Knowing how those in colder climates often despise it, I wonder what I swear off as an annoyance or take for granted that someone who lives elsewhere craves: the Phoenix businesswoman in July who yearns for Seattle's rain; the Kansas college student who'd love to see my Pacific Ocean; the Florida surfer who wonders how people on the West Coast live without humidity; the teacher in Southern California who'd love to exchange a few sunny days for the greenery of the Northwest.
Though I'm jealous of Arizona's golfing winters (someday I'm gonna be a snowbird), with each passing day I become more appreciative of what I have that I didn't for a little while. The rain isn't so bad – it sure beats weekly blizzards. 40 degree weather isn't so bad – running by the lake at 20 something degrees was a bit tough. "The daily grind" isn't so bad – that guy I met last week was just laid off just in time for Christmas. Yep, I'm gonna appreciate the little things.